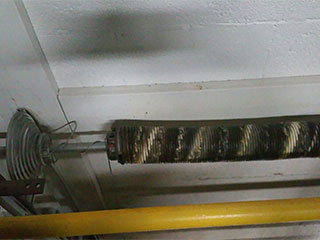 If you have been in the market for a new garage door opener, you have probably noticed that they come with different horsepower ratings. While more horsepower does help lift heavier doors at faster speeds, it can be a misleading measurement of the power and performance of a garage door opener. The truth is that most of the heavy work is done by the system's springs, which are often located on the wall directly above the door's opening.
So What Do Springs Do?
You probably think of these components as stretching and closing, much like a slinky, or the spring on an average front door screen. That's true for the extension type. However, a torsion type spring generates mechanical energy by twisting. In the case of garage doors, this component is anchored on one side with a stationary cone and on the other end, it has a winding cone. When you open your door, these components unwind and turn the cable drums, which in turn wrap up and store the cables. While the springs are in a constant state of tension, the amount of tension varies according to whether the door is being opened or closed, as well as the material its made of. Either way, you can imagine that being in a perpetual state of tension would gradually lead to some wear and tear damage.
Replacing Torsion Springs
The good news is that you should only have to worry about torsion spring replacement about every 10 to 20 years depending on the quality of your equipment and how often you use the door. There are two sure signs that you are due for some maintenance. First, if you are consistently hearing squeaking noises, it is probably time to have these components lubricated. Second, if you disconnect your door from the opener and close it manually, you should notice that it gently hits the ground. However, if it appears to be sagging, you should get a professional to inspect your spring tension.
Leave It To The Experts
If it is time for some repairs, never attempt to do anything by yourself. Springs can be downright dangerous to repair or replace without the proper training and should be left for experienced technicians to handle.
Your best bet is to give our Garage Door Repair Sugar Land team a call. We have the tools, the experience, and the expertise to take care of any possible spring related issue.