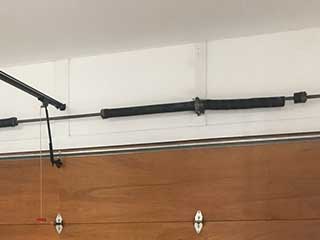 Your automatic overhead garage door won't last long without a working pair of springs. Garage door springs last a good long time, but sooner or later they will break, and you'll need to put in new ones. Replacing these springs is a tricky procedure, though. Because of the pressure that garage door springs operate under, poking at them can be very dangerous if you lack professional training. Garage Door Repair Sugar Land offers inexpensive, expert spring replacement the same day you call us, anywhere within driving distance of the city.
The Importance of Garage Door Springs
The opener motor controls your garage door's lifting, but most of the real, hard work comes down to the springs. They store a counteracting force pushing up against the door, neutralizing its weight so that the motor can do its job. If the springs break, then the opener and lift cables have to deal with the entire weight of the door on their own, and they aren't built for that! If your opener or lift cables break, replacing them will be much more expensive than a pair of springs. If they break during door operation, you could have a dangerous accident. Getting new springs every decade or so is just the cost of doing business if you want the convenience and security of an automatic garage door.
No Delays For Broken Spring Replacement
We answer our phone from early morning until late night, seven days a week, all year round including holidays. If you've been keeping track of your springs' lift cycles and think they'll be reaching their end soon, make a date for whenever is most convenient. If your springs have already broken on you, call immediately and our team will be on the way to your address in just hours. We appreciate that the longer your garage door is unusable, the more inconvenience you'll suffer. Our mission statement is to make you suffer as little of that as possible!
Call Sugar Land's Fastest Garage Door Spring Repairs
Don't make things harder on yourself than you have to. Arrange for quick, cheap, expert spring replacement by calling today and get any broken spring replaced right away. Remember, your garage door needs springs to work safely and properly. When you run into trouble, you've got local Sugar Land garage door spring repair technicians available every day of the week!