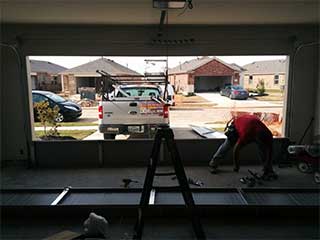 It can be annoying when your garage door decides to malfunction just when you are inside your car and in a hurry to drive to your destination. The malfunction is most likely caused by the wear and tear your system goes through over years of continuous use. This sort of accumulated damage gradually takes its toll on the many different moving parts, until finally one (or more) of them breaks down and the whole system screeches to a halt. Not to worry, though. You can prevent this from happening by hiring a professional company to perform regular maintenance work on your garage door for you. These routine maintenance services are meant to be preventative in nature, catching small issues before they grow larger, and making sure that every single part of your system continues to operate at an optimal standard.
Take Preventative Action
Our team of qualified professionals at Garage Door Repair Sugar Land will cover every aspect of your door, including performing opener sensors maintenance. We'll also lubricate every moving part that requires it, which will do more than ensure efficiency of performance, it will also make the entire system work much smoother.
Professional Inspection
Did you know that your garage door opener is composed out of 300 moving parts, every one of which needs to work cohesively with the rest in order to function successfully? Because of the many parts involved, we can never emphasize enough the importance of regular checkups and tests that need to be performed. These are downright crucial in order to make sure every part is working correctly, and that your system is in an optimal condition.
So How Can We Help?
During a maintenance appointment, our technicians will conduct a thorough inspection of your system and then provide you with an assessment of the door's performance. We will tune up and adjust any parts that are out of place and mend the track if needed. We will check the spring, rollers, and hinges to see if they need to be replaced. We will also make sure that the sensors are still working. These photo eyes are the sensors responsible for detecting something blocking your door's path and alerting the system about it, which will make it go into reverse in order to avoid that object.
When you call us at Garage Door Repair Sugar Land, you can rest assured your entire system will be professionally serviced by highly skilled experts. Call today!
With our maintenance service, you will enjoy smooth, safe and reliable operation.
Need more? We also provide:
Overhead Door Installation
Garage Door Extension Spring Replacement
Belt Drive Garage Door Openers
Liftmaster Garage Door Maintenance