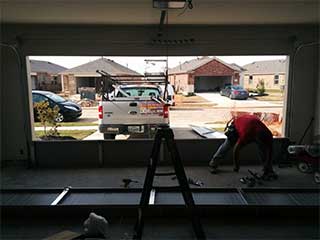 It can be annoying when the garage door malfunctions just when you are inside the car and in a hurry to drive to your destination. The malfunction is most likely caused by of the wear and tear garage doors go through over the time, but you can prevent this from happening by hiring a professional company that will do the regular maintenance work for you. After all, routine maintenance services are meant to be preventative in nature.
Take Preventative Action
Our team of qualified professionals at Garage Door Repair Sugar Land will cover every aspect of your door, including performing opener sensors maintenance.
Professional Inspection
Did you know that both your garage door and opener are composed of 300 moving parts that need to work cohesively in order to function successfully? Because of the many parts involved, we can never emphasize the importance of regular checkups enough, just to make sure every part is working correctly.
During maintenance, we will conduct an inspection and provide you with an assessment of the door's performance. We will tune up any parts that are out of place and adjust the track if needed. We will check the spring, rollers, and hinges to see if they need to be replaced. We will also make sure that the sensors are still working. Rest assured your entire system will be serviced with the final touch being lubrication maintenance so that it will be quiet and efficient while in use.
With our maintenance service, you will enjoy smooth, safe and reliable operation.